Dentures & Partials
A smile just isn't a smile if it's incomplete. Missing teeth cause a host of problems, from difficulty speaking and eating to low self-confidence to jawbone deterioration. Don't give up on your smile. Advances in dental materials and technology have made full and partial dentures more lifelike and comfortable than ever. With help from Smiles by Sullivan in Tulare, CA, you can have your teeth replaced with beautiful, functional dentures or partials created just for you -- and we can explore the option of Mini Dental Implants for anchoring your denture as well.
What is a Partial?
A partial denture, commonly referred to as simply a partial, consists of multiple teeth on a gum colored base. The teeth are not in a row, but rather spread across the base to fit like a puzzle with your existing teeth. A partial is normally secured with clips or brackets, but unlike a bridge, a partial is removable.
What is a Denture?
A full denture is a complete top or bottom row of teeth mounted on a gum-colored base. Dentures can be closed or open palate, and they may require denture adhesive to hold them in place. Dentures can also be created that can be held in place by dental implants.
Implant-Supported Dentures and Partials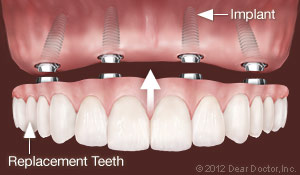 Dental implants are small titanium posts anchored into the jawbone. If you prefer a secure full or partial denture and do not want clips or adhesive, then consider implant-supported dentures. In a brief surgery, an implant dentist can secure a few dental implant posts to hold your dentures in place. With implant-supported dentures, you won't have to worry about slippage, and your prosthetic will feel safe and sound.
Which denture or partial option is right for you? That's a great question, and we can answer it at the Tulare dental office of Smiles by Sullivan. Tooth replacement can depend on the current state of your oral health, how long you've been missing teeth, your budget, your age, and your lifestyle. Luckily, there are beautiful and satisfying options at every price point and for every smile. To learn more about the dentures, partials, and dental implants available at Smiles by Sullivan, contact us.
Related Denture Articles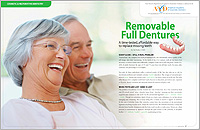 Removable Full Dentures
Complete tooth loss can cause a host of health problems, including malnutrition and bone loss. Though fixed bridgework may hold a higher place of reverence when it comes to replacing an entire set of teeth, removable full dentures can provide an elegant solution that is significantly more affordable... Read Article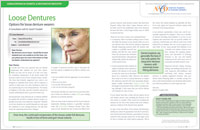 Loose Dentures
Loose dentures are a common problem for people who are full or complete denture wearers, especially if you have worn them for a long time. Whether or not new dentures are needed depends not only upon the condition of your existing dentures, but also how much the supporting tissues have changed... Read Article
Call Smiles by Sullivan today to schedule an appointment with Dr. Sullivan or Dr. Martin and experience dental care designed for you. Our Tulare office is conveniently located for families in Visalia, Hanford, Porterville, Kingsburg, Fresno, and surrounding areas.